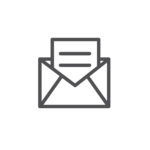 I see you roll your eyes when I start talking about the value of email marketing!!  LOL  Here is a quote from a GoDaddy article talking about the continuing benefits of email marketing.
Hop on the email marketing train
Hearing the term "old school" conjures up images of outdated trends, especially when it comes to describing online marketing tactics. However, there is one old school digital marketing practice that remains as powerful today, as the day the Internet became a commercial success.
It is called email marketing.
The tactic has evolved over the years to include automation and content marketing techniques that enhance the experience customers have when reading email newsletters.
For Google customer reviews, it is not simply about email marketing, it is about reminding your customers about Google's customer review platform.
For YCL clients, I include a review section in their email template just for this reason. Ask and ask and ask again for reviews!  Each time we email, we ask for reviews at all of your review sites. So when a client is thinking of you, we make it easy to do a review.
Read the entire article about the value of Google reviews.