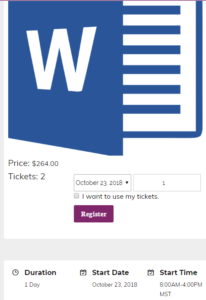 It's always a good idea to comparison shop – even for computer skills training.
YCL recently offered a hands-on 2 hour training on how to make videos for $55 per person.
Lynda.com is $30 a month for unlimited high-quality video tutorials.
Training For You does 1 or 2 day classes in person at their location.  Here is a screenshot for a Word class at $132 per person.
Each type of learning situation has a benefit.
Hands-on helps overcome technology fear and jump starts your learning and use of the new technology.
Lynda's videos break huge topics – Outlook 2016 – into small segments to watch as needed.
A Training For You type class is a great way to be introduced to a new software. The Word class would give you an overview of the features and capabilities.