Pinterest is working hard to become a profitable company. Yea, American capitalism!  They've add "Promoted Pins" which you pay for. Now they're adding in "Buying Pins" to let you buy directly through them.  They're going to have your credit card info and share it with the seller. Is this convenience really worth the risk you're taking?  It's so much trouble to go to the buyer's site and make a purchase?!  Now your credit card info is sitting in two places waiting to be hacked.
In addition, Pinterest is going to start tracking your purchases. See their example in the text below. I encourage each of you to go into your settings and turn off "Order History."  You don't need Pinterest "helping" you decide what to buy.
These may seem like little things, not worth the bother to stop.  But THINK!  You are giving out your private info. Of course, someone is going to use it. Of course, someone is going to steal it.  So stop the problem at the beginning. Don't buy through Pinterest. Turn off their tracking mechanism.
Pay attention! Be careful about sharing information. You can stop a lot of the invasion of privacy with simple steps. You can control a lot of your privacy and security.
PS – I can't take about privacy or security without discussing passwords. You need to use strong passwords. You need to have a different password for every account, not one password that you use everywhere.  Read
this
article about a simple password method. I've been using it for 3-4 years now and can assure you it works and works easily.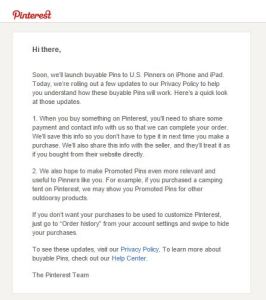 "Soon, we'll launch buyable Pins to U.S. Pinners on iPhone and iPad. Today, we're rolling out a few updates to our Privacy Policy to help you understand how these buyable Pins will work. Here's a quick look at those updates.
1. When you buy something on Pinterest, you'll need to share some payment and contact info with us so that we can complete your order. We'll save this info so you don't have to type it in next time you make a purchase. We'll also share this info with the seller, and they'll treat it as if you bought from their website directly.
2. We also hope to make Promoted Pins even more relevant and useful to Pinners like you. For example, if you purchased a camping tent on Pinterest, we may show you Promoted Pins for other outdoorsy products.
If you don't want your purchases to be used to customize Pinterest, just go to "Order history" from your account settings and swipe to hide your purchases.
To see these updates, visit our Privacy Policy.
To learn more about buyable Pins, check out our Help Center.
The Pinterest Team"