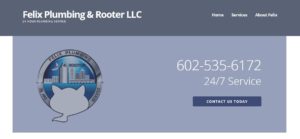 Jesus Felix took advantage of the new One Year Website program that YCL is offering. For one flat fee, you get all of the pieces needed for one complete year for a 3 page website.
This is Felix Plumbing's first site so the First Year Website package simplified Jesus' foray into internet marketing.
Felix Plumbing does both residential and commercial plumbing. With 20+ years of experience, he's seen it all and can help in almost any plumbing situation.