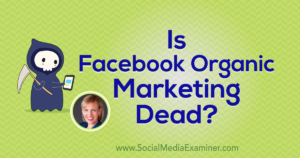 Here is my synopsis of Michael Stelzner's interview with Mari Smith.
Michael is owner/editor of Social Media Examiner, my favorite social media newsletter.
Mari is a long-time expert on Facebook marketing. She does great training sessions and provides excellent content on her Facebook page.
Intriguing change to Facebook's mission: Used to be "to connect the world." Now it is "giving people the power to build community and bringing the world closer together."
Facebook is putting more emphasis on groups including making them more business-friendly and allowing ways to monetize the groups.
The ability to boost a group post and other features for groups are in the pipeline.
Facebook is working on end-to-end encryption and short-life content.
Don't link to your YouTube videos from Facebook. Since YouTube is a major competitor, Facebook isn't giving the videos reach.
Instead upload your videos directly to Facebook.
Link posts which link to outside content get the lowest reach and lowest engagement per BuzzSumo's analysis of 777 million posts.
Average reach of a post is now 1 – 6%. It used to be 5-10%.
Video posts outperform photo and still image posts by 73%.
Question posts are popular with Facebook. They take up less space in the newsfeed and generate "community" conversation.
Video is extremely popular with Facebook because they are trying to become a major player in the digital streaming arena.
Advertising in video is growing and will be economically feasible for small businesses in a short time.
BuzzSumo's study revealed that the optimal length for a Facebook Live video is 3-4 minutes. Facebook will let you go longer if you have engagement from the audience.
My Conclusions:
Successful organic marketing on Facebook is much harder, more expensive and more risky than previously.
Paid advertising is required in combination with organic.
You can't ignore Facebook but you can limit the effort.
Be clear about your goals for Facebook marketing.
Increase your Facebook budget if you want Facebook results. This means more dollars for organic posts and more dollars for paid advertising.
Consider other social media platforms that are used by your audience and expand those efforts.