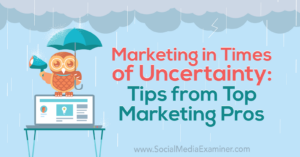 Another excellent article from Social Media Examiner.  These pros often work with larger companies who have social media teams. Not always, but often.  So I added my thoughts for my small business people. We have to look at things a little differently!
First my answers then click the link to read the full article.
Should I continue to promote my business on social media? How?
Yes, continue using social media. I would recommend at least continuing the activity you have been doing. Show people that you're still in business.  If you were making twice a week posts on two platforms, keep that going.
If you or your staff have some extra time, start a new platform.  Look at the social media demographics (I can email them to you) and start a new platform you haven't had time for before.
Should my social media strategy change? How?
Review all of your content to be sure it's relevant.  If you're a restaurant, advertising dine-in specials is going to fall flat. But take-out specials will be worthwhile. Every business can adjust. Be very clear on how people can help you and how you can help people.
Should I be running ads on social media? What kind of messaging should I use?
If you want to run ads, hire an expert to guide you.  I can give you referrals to experienced professionals. The ads are not easy to set up. You need to set a clear budget. You need to carefully measure the results. 
If you haven't ran ads before, I would wait a bit to get started.  Are you doing everything else?  Up to date website with solid search engine optimization?  Email marketing? Phone calls? Videos? Are you participating in groups on Facebook or LinkedIn?  If you're doing all these things, you probably need to add in social media advertising.
How can I use social media to move my transactions online?
Make sure you post about the ways you use online transactions to help your clients. Online meetings?  Video training? Catalogs on your website?  Be very clear what is available to your clients.
We are all learning new things and shifting some ways we do business. Be creative.  Be kind.
I'll close with my favorite social media quote –
"You can make more friends in two months by becoming interested in other people than you can in two years by trying to get other people interested in you."
 Dale Carnegie