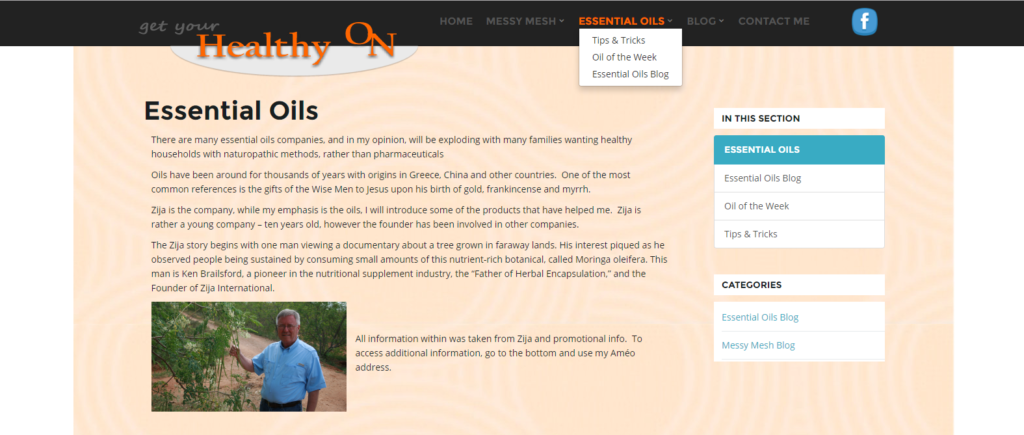 Nancy Gretzinger, founder of HealthyOn, created her first website with Your Computer Lady – HealthyOn.online. The site went live in December.  Nancy's goal is to educate people about health issues with an emphasis on the problems of mesh implants.  She shares her own experiences, updates on legal issues and tips to improve quality of life issues.
From a technical point of view, the blog is used in an interesting way. One blog feeds into four pages of different content. The feed works from the Categories used to designate each post. Categories are a common component of blogs.  They are typically used to gather large groups of information to help a reader interested in a certain topic find all posts about that topic.  Example:  Anyone interested in essential oil uses would click on the Essential Oils category and all of Nancy's posts about oils would display.
For HealthyOn, we set up feeds from the blog to move content to four different web pages.  Category "Messy Mesh" will populate the Messy Mesh Blog Page. Category "Essential Oils Tips" will populate the Tips & Tricks Page of the site.  For the Oil of the Week Page, Nancy can change the Category to have a post display on the Page then change the Category to remove the content.  The good news is that the content stays on the blog regardless of Category!  So a selection of posts could be rotated on the Oil of the Week Page. That's a good example of Work Smarter, not Harder!
For HealthyOn a WordPress website was the perfect fit.  Nancy is gathering new content almost daily. WordPress allows her to add content on pages or add blogs as she has the information and the time. There's no need to wait for a programmer to make simple edits in content.
Visit HealthyOn.online today!