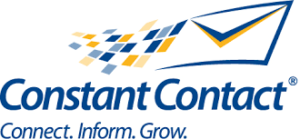 Constant Contact is a long time favorite of mine for email marketing. I like their interface. I like their Knowledge Base. I LOVE their live tech support.
Now they are expanding to become a broader digital marketing company. What's new so far?
LogoMaker – For the long term, you can't do without a high quality logo for your company. But this logo maker is a starting point. It is also a great option for a special logo for an event, a product introduction, a new service announcement.
Social Media Posts & Analytics – You can schedule posts for Facebook and Instagram from your Constant Contact account. And you can read your analytics from CtCt.
Website Builder – It seems everyone has a website builder these days. I'm leery of them because they are proprietary software which limits your website. The advantage the CtCt builder has is that it is an interface you are already familiar with. Your learning curve would be lower. If you are considering a small, simple website, I recommend looking at the CtCt option. The site would, of course, have an opt in that would connect directly with your CtCt email list.