too busy?
stressed?
new computer?
new project?
new employee?
I can handle it.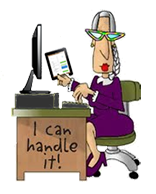 While we do short term projects, we strive to build long term relationships with our clients. We want you to call us again and again.
We step in
when you need us
to work in your office
or
to work in the YCL office
to do a project for you
or
to teach you how to do the project
to complete a large project
or
to complete a small project
to work one-on-one
or
to work with your entire staff
Your Computer Lady can do any computer project you can think of:
Access databases
Award submittals
Clerical support
Copywriting
Customer Relations Management
databases (CRM)
Email Marketing
Excel spreadsheets
Form creation
Graphic design
Group training
Marketing literature
Newsletter publishing
Personal training
PowerPoint presentations
Social Media support
Transcription
Web site design
Web site maintenance
Word processing
WordPress Web sites
Get Started Now!
Your Computer Lady offers a free, no-obligation 30 minute consultation to confirm that we can help you.
There are some simple tips to help prevent eye strain while you're at your computer. Change the … [Read More...]
Here is a great tip I came across when reading this article "Proofreading by Listening: … [Read More...]
Many times with Excel Spreadsheets we are double and triple checking our data and formulas.  For me, … [Read More...]