What is Search Engine Optimization (SEO)?
Various techniques and tools to draw the attention of search engines to your website. When search engines index your site, you are more likely to show up in searches.  Google Search has 92.47 percent of the search market followed by bing, Yahoo, Baidu, Yandex and thousands of others.
Organic SEO
Your website, social media profiles and email marketing plan are analyzed then updated to utilize the keywords to make your site and marketing more attractive to search engines.  
Organic means your work is on the site itself, not via paid advertising or pay-per-click activities.
You can update the page content. You can add blog posts with relevant content.
Your best results will come from a mix of organic and paid SEO.
Paid SEO
Paid SEO is utilizing a SEO expert who will review your site and make recommendations. But their main activity is in generating ads to draw visitors, generating links to and from other sites, making keyword rich social media posts and other means of drawing search engine attention.
Call Your Computer Lady today for a no-cost, no-obligation call to discuss your SEO options!
Keywords are the words, phrases or locations pertinent to your business. They are the words a prospect would use to search for your products or services. For Your Computer Lady, keywords would be:
Website development
Website maintenance
WordPress websites
WIX websites
Arizona
United States
Search results example
There are 2, 880,000 links/responses to my search for "website developer in Tempe."
The first results shown are paid SEO advertisements.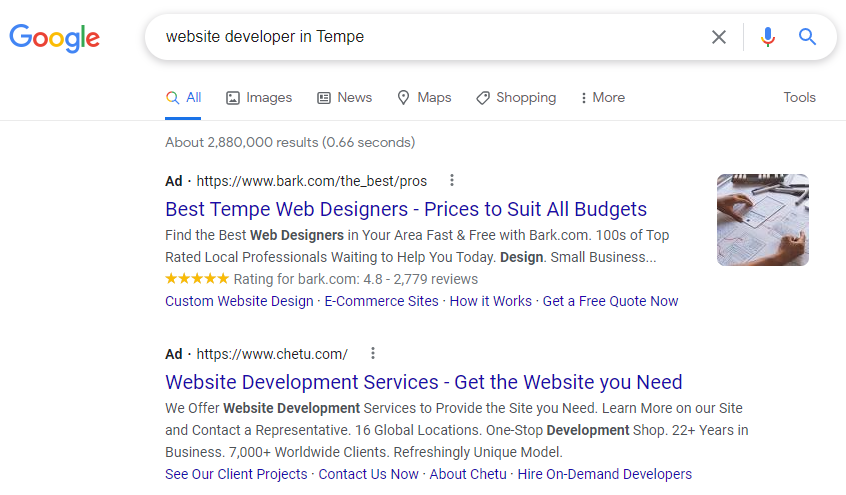 Next in the results come the Google My Business Page results.

Next comes the organic search results. The sites that Google's algorithm judge as the best "answer" to the search question. This algorithm changes frequently and, frankly, gets better frequently. One of the major criteria Google uses is the age of the content.  If the content on your site is old, it is discounted by Google. Sites with newer content will show up higher in the results. This is where blog posts can make a big difference for you.