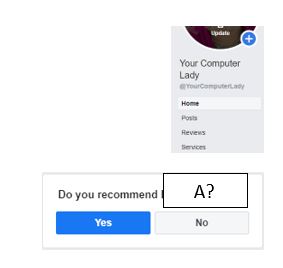 Best Option
This is the best method because reviews stay on the Reviews page forever.
Go to A's Business Page
Click Reviews on the left side navigation
Click the Yes button under Do you recommend A?
A window will open to allow you to write a recommendation.

Confirm that the post is set to be Public.
Click the Post button when you are done.
You can only leave one Review per Business Page.  If you want to change or update the Review, you have to delete the first review and re-do it.
Alternate Method
Go to A's Business Page
At the top of the News Feed, click in the "Write a post…" field.
Write a recommendation.
            You could add @person's name so the post would show up on their personal profile
            You can add hashtags, links to a blog post or website, etc. just as you would any post
This post will be sent out to the Business Page's Likes as a normal post would be.
This post will work down the News Feed as new posts are added. It will only be seen for a short period of time.
Exchange Reviews
It's a great idea to arrange mutual reviews with colleagues and business partners. They would follow the same steps on your business page.  I recommend doing the posts 2-3 days apart in case you have shared Friends and/or Likes.