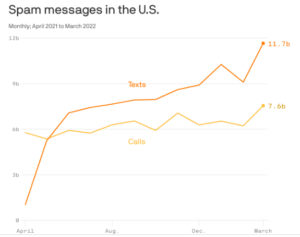 Yes, you are getting hit with more spam emails and calls — and now spam texts — than at any point in the history of these devices. These messages are frequently dangerous! They often try to steal your data, identity and/or money — and the crooks are getting better and better.
Here with some tips from security experts on how to protect yourself:
Simply do not answer calls or respond to texts from numbers you don't recognize. If it's a legitimate call/text, they'll leave a message and you can call right back. Even if the area code indicates the number is local, don't answer.
Likewise, don't respond to emails from people you don't recognize. That's the easiest way for the spammer to verify your email so they can share it with their buddies and hit you with more junk mail. Just delete the message.
Only report as spam if you recognize the sender. For example, if I suddenly get an email from ABC manufacturing and I am sure I didn't sign up to get their emails, I would report it as spam. I would know they grabbed my email from a membership list somewhere.
Don't have your actual email show on your website. Instead of 
Pamela@YourComputerLady.com
 put "Email Pamela" and make the words a link to the email address. The link opens an email on the visitor's computer so they can easily email you. But it's harder for a spammer to grab the link. They're too lazy to make the extra step.
Verify everything. If you get what looks like a request for information or a bill from a government office or retailer, call that agency or company to verify that it's real. Scammers try to hit your hot buttons to suck you in. Offers to pay off your student loans or telling you there's an issue with your online shopping order.
Pay attention even to emails from people you know. I recently received an email from a client. But the subject line was odd and the attachment was a file type she typically wouldn't send me. Sure enough, when I texted to confirm it was legit, she told me her email had been hacked.
I absolutely, with no reservation, promise you Dell, Microsoft, Apple – hardware and software retailers of that level – will never call you to tell you there is a problem with their computer or with their software. Hang up!
Never click a link in a text from a number you don't know.
Don't even respond if you get a robocall that tells you to press a certain key on your phone to stop getting calls. Getting you to click on something is one of the quickest ways for scammers to get your personal information or at least verify that what they have is correct.
You can quickly forward spam text messages to 7726 to report them.
Put your landlines and cell phones on the FTC's 
Do Not Call
 list to avoid telemarketers. Or better yet, do not answer calls from numbers you don't recognize.
Want more info? Here are some guides on avoiding spam calls and texts and emails.
Source Data: Robokiller. Chart: Baidi Wang/Axios.