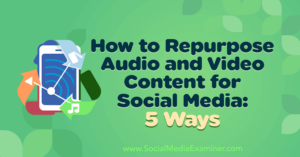 "Creating content for your social media channels can be an arduous and time-consuming task. This is why savvy social media marketers will get the most out of any content they create.
When an opportunity arises to capture live video content, record a podcast, or film a webinar, have a plan in place before you start recording that outlines the key points, promotional aspects, and opportunities you can maximize when repurposing your content."
Click here to read the full article.