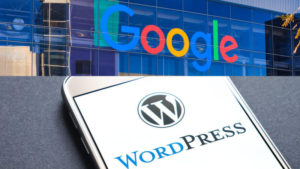 Google has started partnering with WordPress. This gives all of us WordPress site owners a little lift in Google juice. Read the Article.
Why?
WordPress now represents 59% of all content management software websites. That's an estimated 1/3 of ALL websites.
Google is focused on speed! They have made upload speed a priority and an algorithm factor. WordPress sites are speed friendly. You do have to be careful about the size of photos, PDFs or other uploads to your site. But the basic WordPress structure is speed-friendly. (If you're concerned about the upload time for your site, let's take a look and see what we can do. We have tools to shrink photo sizes, delete comments, improve the site.)
Google is prioritizing mobile-friendly sites because so many searches are now done from mobile devices. WordPress and WordPress themes are responsive aka mobile-friendly. (If you have an old WP site, let's make sure it's responsive. This is urgent!)
If you aren't using a WordPress site, let's talk about your options. Every site needs to take advantage of every opportunity to be Google-friendly.